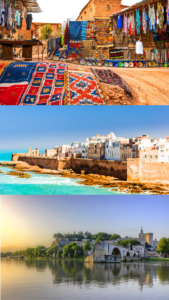 Chew On This Tasty Tours and With The Chef are taking the show on the road, partnering with a luxury travel agent to orchestrate two destination tours in Fall 2024.
We've taken you from the Fraser River in Fort Langley to the streets of Maple Ridge. Come along as we venture further afield for a culinary adventure of a lifetime!
First come on a journey from Milan to Lake Como, into Turin for the Terra Madre, Slow Food Festival and then onto Bologna, Parma, and La Spezia and more. You will live like a local and have an experience-rich culinary adventure. From ancient vines to cooking classes, tasting parmesan and seeing it being made to picking olives in a grove. This is one not to miss!
Then, imagine yourself sailing down the picturesque South of France on an exclusive and luxury river cruise.
We already have plans for Portugal and Morocco in Fall 2025. 
Watch here for more information or send us an email with your questions.