We've got unique corporate culinary experiences for:
team building
sales incentive
recognition tours
Our custom curated culinary adventures offer the perfect blend of professional development, team bonding, and delicious discoveries.
Explore anywhere in the Fraser Valley including Chilliwack, Abbotsford, Surrey, Fort Langley, Langley City rural Langley and Maple Ridge.
Why Choose Us?
At Chew On This Tasty Tours, we pride ourselves on going above and beyond to provide an unmatched experience for corporate groups. Here's what you can expect:
1. Culinary Connections: Our tours introduce you to local farmers, artisans, chefs, and small business owners, making for an enriching journey that transcends mere sightseeing.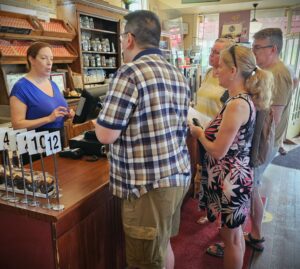 2. Intimate Group Experiences: We specialize in small group tours, ensuring that your team won't get lost in a crowd. Forge meaningful connections with your colleagues in an exclusive and personalized setting.
3. Customized Itineraries: If our existing tours don't align perfectly with your corporate objectives, we'll custom curate an all-inclusive food adventure tailored to your specific needs.
4. Memorable Client Gifts: For realtors looking to leave a lasting impression, our tours make for exceptional client gifts that showcase your thoughtfulness and appreciation.
5. Overnight Stays and Multi-Day Tours: If you're looking to extend your experience, we offer options for overnight stays and multi-day tours. Relax and enjoy as we handle the logistics.
Make It Memorable
Unite your team members through the magic of our itineraries. We are experts at curating a corporate culinary experience that fosters camaraderie that extends beyond the workplace. Our tours create memorable moments that will leave a lasting impact.
Elevate your corporate team building, incentive, and recognition tours with Chew On This Tasty Tours.
I'm looking for something less active than a tour, can you help?
If you are interested in a more laid back style of corporate culinary experience, have a look at our sister company, With The Chef.
Guests have the opportunity to connect over a chef-selected menu hosted by a choice of various chefs in communities in Vancouver and the Lower Mainland.