Taste Local Flavour in the Lower Mainland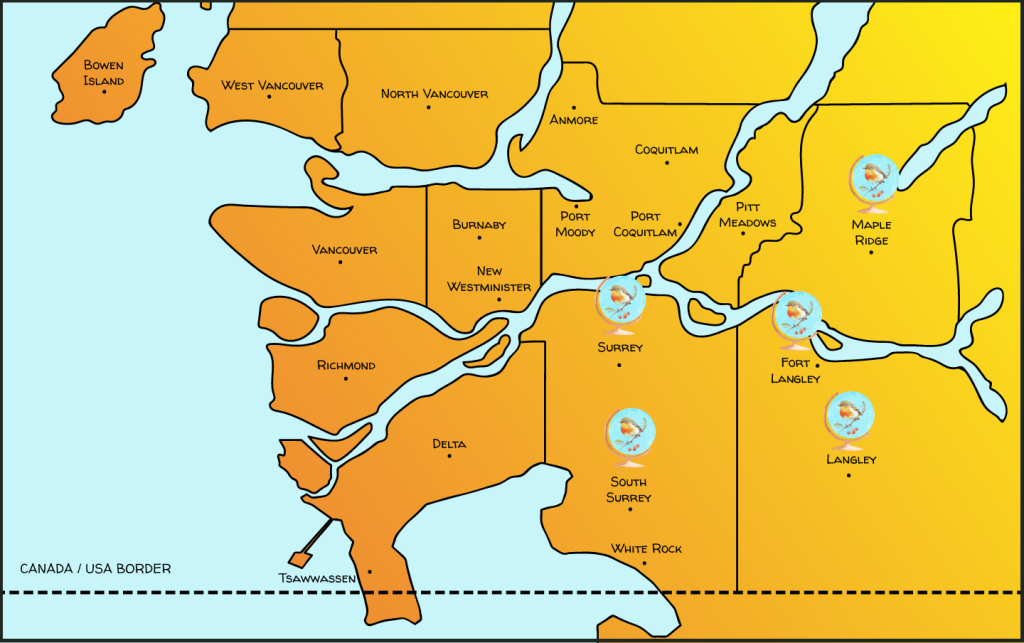 BEYOND VANCOUVER
What place do you think of when you think of British Columbia?
Whether you live in BC, in Canada or Internationally, if you answered Vancouver we wouldn't be surprised.
But we are here to surprise and hopefully entice you into doing some exploration beyond the big city and into a vast area called the Lower Mainland.
If you are planning a day trip from Vancouver or looking for somewhere to stay during your vacation that's more affordable, we've got you!
GETTING HERE
If you are coming from Vancouver most of the communities we will highlight here today are within an hour's drive. Whether you rent a car or you have your own vehicle, you will require a vehicle to get into and navigate the communities out here. With Google Maps you'll be set!
Flying in from another country or from somewhere else in Canada? Well, we recommend flying into Abbotsford or YXX if you are going to stay somewhere in the Lower Mainland. Parking and traffic is much easier to navigate here.
ABBOTSFORD
Close to the mountains and with the impressive Mount Baker looming in the backdrop, Abbotsford is home to farmland and a hip downtown full of cool restaurants and tons of baked goods!
In the Spring you'll be dazzled by colourful fields of tulips. The rest of the year you can bet that you'll be driving by lush green fields, some bordering on the United States. We are that close!
It is home to the Tradex Convention building and the Abbotsford Events Centre for large scale events.
We offer you the choice between a walking tour in Downtown Abbotsford and a driving tour in the Backroads of the area.
LANGLEY
From urban centre to historic village, Langley has it all!
There are two municipalities in Langley that can be described as "city mouse" and "country mouse".
As someone visiting the area you will likely never know the difference. And it won't matter!
You'll find culinary opportunities from fine dining, bakeries, breweries and vineyards. Visit farms to see goat cheese being made and get to know the difference between an alpaca at one and a llama at another. Stroll through the city and discover an extensive collection of murals. And of course visit Fort Langley, the Birthplace of BC. Explore this charming village; the bistros, the bakeries, the history and the boutiques.
We are pleased to offer tours in all three of these areas: the city walking tour is called THE ONE WAY Tasty Tour and explores a pedestrian-friendly corridor where you'll find the murals, fine dining and international cuisine.
Our driving tour will be available to book in late Spring 2023 and offers a visit to a local brewery and a distillery. For this reason we offer our designated driver pricing where one person per tour receives a significant tour discount and alcohol substitutes. As always, our tours are food-focused so you can count on lots of flavour on the CULINARY BACKROADS Tasty Tour.
Finally, you aren't going to want to miss our most popular tour, LOCAL FLAVOUR Tasty Tour in Fort Langley. You'll enjoy sips and bites, history and views. And there'll be shopping too! Available to book year-round, the summer season books up early. Follow the link below to find out more.
WHITE ROCK
There is a common joke amongst the locals where folks will say that they live in White Rock even if they are many blocks away from the city's border.
Once you come here you will see why: it is beautiful!
Everyone should watch a sunset from the pier sometime. It is the longest pier in Canada. The vast protected waters are often calm which makes it perfect for whale-spotting. Get out into a kayak or onto a paddleboard and get an up close look!
The culinary offerings are becoming increasingly diverse. Plan on trying local fish 'n chips at least once! There is also a fantastic vegan restaurant owned by former Four Seasons Hotel Chefs. And if you like chocolate we have a world-renowned chocolatier in our own backyard.
Come taste the offerings just a few minutes away from the beachfront at White Rock. Away from the crowds and rich with flavour our White Rock Tasty Tour gets you walking and catching glimpses of that vast ocean in the distance.
MAPLE RIDGE
Sandwiched between the Golden Ears mountains and the Fraser River you'll find Maple Ridge.
The downtown is walkable and full of treasures to discover. There is also a fabulous farmland.
Our LOCAL GOLD Tasty Tour is available to book right now. Discover the tastes of downtown Maple Ridge.
Coming soon is our driving tour that will explore farmland and offer the designated driver option on tour. Subscribe to find out when the tour is ready to book.
SURREY
The second biggest city in BC with a diversity of urban, big forests & oceanfront; there is something for everyone.
There are a multitude of locations available to explore and our current tours have only begun to scrape the surface of this vast area.
Focusing on the Spice Trail, our Taste of the Spice Trail and Taste of India tours offer progressive-dinner style experiences to sample the myriad of international cuisine available.
Want to make it a stay-cation? Be sure to inquire about the package with the Civic Hotel in Surrey.