Exploring with Chew On This Tasty Tours
Chew On This Tasty Tours offers a "welcome to the community" realtor gift for clients. This locally-owned British Columbia business provides an exceptional opportunity for realtors to show appreciation to their clients.
A Self-Guided Adventure with a Personal Touch
Contrary to the term "self-guided," Chew On This Tasty Tours ensures that guests are never alone during their culinary adventure. With a well-structured itinerary, personalized hosting, and warm welcomes, clients are guided every step of the way.
The Evolution of Tour Guiding
Chew On This Tasty Tours adapted to the challenges of the pandemic by offering remote itineraries in place of traditional guides. This evolution has enhanced the client experience, allowing them to have a day fully planned for them, without the need to make decisions. Guests enjoy the freedom to focus on what is interesting to them and the time to connect with their tour partners without the distraction of a tour guide. Find our tour options here.
All-Inclusive Experience for Maximum Relaxation
Realtors can assure their clients that everything, including tastings, takeaways, and tips, is included in the tour cost. This ensures a stress-free and enjoyable experience, where clients don't need to carry their wallets. Your clients will love this curated welcome to the community realtor gift.
Catering to Dietary Preferences
While some venues may not offer specific dietary options, Chew On This Tasty Tours collaborates with hosts to accommodate various dietary needs. This ensures that all clients can enjoy the tour to the fullest.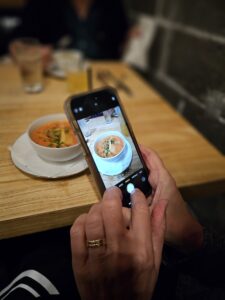 Alcohol Choices and Alternatives
Although alcohol is available on some tours, clients can choose whether they want to partake. If they prefer not to drink, alternatives are readily provided, ensuring a well-rounded experience.
Intimate and Exclusive Experiences
Chew On This Tasty Tours maintains the intimacy of their tours. Clients may encounter other guests, but they will always have their own tables or move between locations at their own pace, creating a sense of exclusivity.
Plenty of Culinary Delights
Clients with hearty appetites need not worry. Chew On This Tasty Tours offer a surplus of curated tastings, and it's not unusual for guests to have leftovers to take home.
Manageable Walks and Active Strolls
For clients concerned about strenuous walks, Chew On This Tasty Tours offer tours of less than 2 kilometers in length, spread out over approximately 5 hours. There's ample time for relaxation and enjoyment without excessive walking.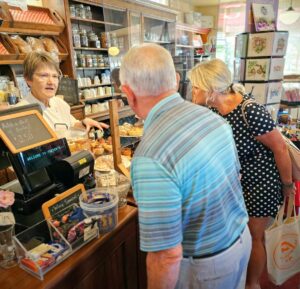 Welcome to the Community Realtor Gift
By gifting a Chew On This Tasty Tour, realtors have the opportunity to provide their clients with a memorable and unique experience. These tours offer an unforgettable and personalized gift, going beyond the ordinary to make their home-buying journey even more special. The next time you want to show appreciation to your clients, consider these remarkable tours that leave a lasting impression.
They operate tours in multiple communities including: Langley, Surrey, Maple Ridge, Abbotsford and Chilliwack. Do you have clients in other communities? Contact Chew On This for custom curated tours for your clients.