Delicious history-making
The World's Longest Charcuterie Board on the Pier was achieved at
Charcuterie on the Pier
. This remarkable event was made by locally owned
Sheila's Catering Company
. This culinary feat shattered previous records, leaving a lasting impression on all of us.
Community support
The event was made possible through the sponsorship by numerous community members including our culinary enthusiast teams from
Chew On This Tasty Tours
 and
With The Chef.
The backbone of this successful event was the dedicated force of volunteers.. We contributed to the perks of the day's event with a couple of sizable raffle prizes and a very special offer in the VIP guest bags. There were other generous donations from
SaveOn Foods
,
All Of Oils
and others.
Record-breaking board
The official measurement of the charcuterie board came in at an impressive 485 feet, setting a new Guinness World Record. Between the visual appeal and sheer scale of this culinary masterpiece we were all impressed. We marvelled at the artistic arrangement of cured meats, cheeses, fruits, and more. The sun-drenched pier at White Rock provided a stunning backdrop for the World's Longest Charcuterie Board on the Pier.
Watching history like a hawk
"Charcuterie on the Pier" featured a unique aspect. To protect the delectable offerings from the typical seaside scavengers, falconers and their hawks were on hand. Consequently, not a single seagull dared to approach the tempting spread. This, in turn, heightened the intrigue and spectacle of the event, showcasing the organizers' dedicated efforts to ensure its success.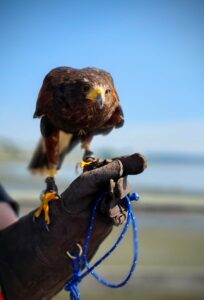 World record & world-class views
As the event took place on a scorching and sunny day, attendees enjoyed not just an unforgettable culinary experience but also a breathtaking low tide water view. Therefore, the combination of gourmet delights and the natural beauty of the surroundings transformed "Charcuterie on the Pier" into an event that truly embodied the essence of the White Rock Pier.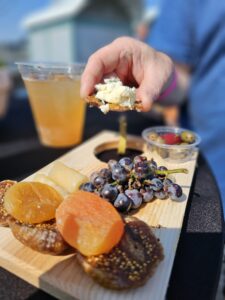 Community spirit & culinary excellence
This event transcended the record books as we celebrated the fusion of culinary excellence, community spirit, and the natural beauty of White Rock Pier. Therefore, we remember this Guinness World Record event as a remarkable milestone in the world of epicurean achievement.